More than a year of pandemic is almost over, I am picking up some gigs.
Thank you for supporting me by donations, checking in with me, and sending me masks and presents.. I am really apprecited you all.
There are still many issues though I am very thankfull not to get Covid and got fully vaccinated.
I have a Broadway Musical Revue show is coming on June 3rd at Ground Floor Theatre outside, its called 'Sing Out!'.
Producer Mela Sarajane Daily, Austin Artist Project was featured on the magazine 'Austin Women" April issue.
here is the link http://issuu.com/austinwoman/docs/aw_apr_2021
ticket is here http://gft.ticketleap.com/sing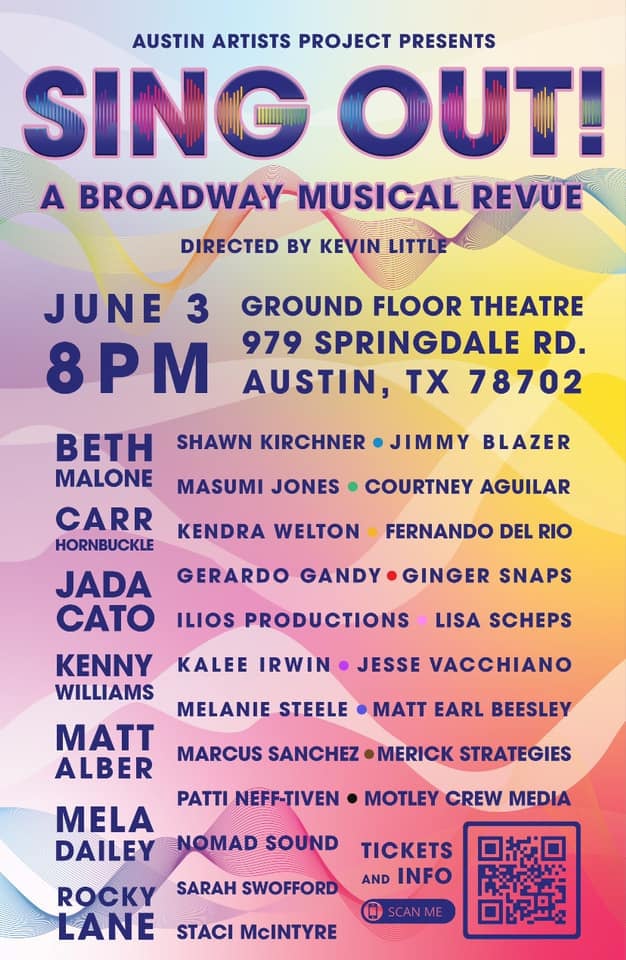 ------- Six Tony and Grammy award winners and nominees perform together some of Broadway's most inspiring and life-affirming works. Sing Out! reimagines classic Broadway tunes from Rodgers and Hammerstein and Sondheim to newer works from The Color Purple and Hadestown.
​Join us for an outdoor concert as Austin Artists Project in collaboration with Ground Floor Theatre brings this production to Austin June 3, 2021 at 8:00 PM.
Seating is by pods of up to 9 people... BRING YOUR OWN CHAIR.
PODS ARE FIRST COME FIRST SERVE
 Tickets are pay what you can with a minimum of $25-- We recommend $150 per pod
​Austin Artists Project will then take this show to The Rose Theater at Jazz at Lincoln Center in New York City in June 2022!
------------------------------------------
so, I will go to NYC to perform this show at Jazz at Lincoln Center June 21st 2022! I am very excited to start with such awesome news in 2021.
I also uploaded online concert videos at my video page I did while shutting down last year through Monks Jazz Club which just awarded as the Best virtual listening room of the Austin Chronicle pole 2020-21. please check out.
Mitch Watkins http://www.youtube.com/watch?v=02-i3Muxod0&t=445s&ab_channel=MonksJazzClub
Peggy Stern http://www.youtube.com/watch?v=SlRxi4gP6og&t=5s&ab_channel=MonksJazzClub
Alex Coke http://www.youtube.com/watch?v=C1h6W1xUxBs&t=7s&ab_channel=MonksJazzClub
And whole through this school year, Austin Jazz Workshop delivered our 27th season 'John Coltrane' show through internet to AISD, RRISD, LISD schools. Big thanks for Michael Melinger who lead us and made this possible to more than 100 schools around Austin. 
And for last, one indie movie I played on 'A Swingin' Trio' (2011) just became available to watch on Youtube free movie.
http://www.youtube.com/watch?v=pWDc1cfwkI8&ab_channel=IndieRightsMoviesForFree